Durabox DB510 Field Office 63x42x80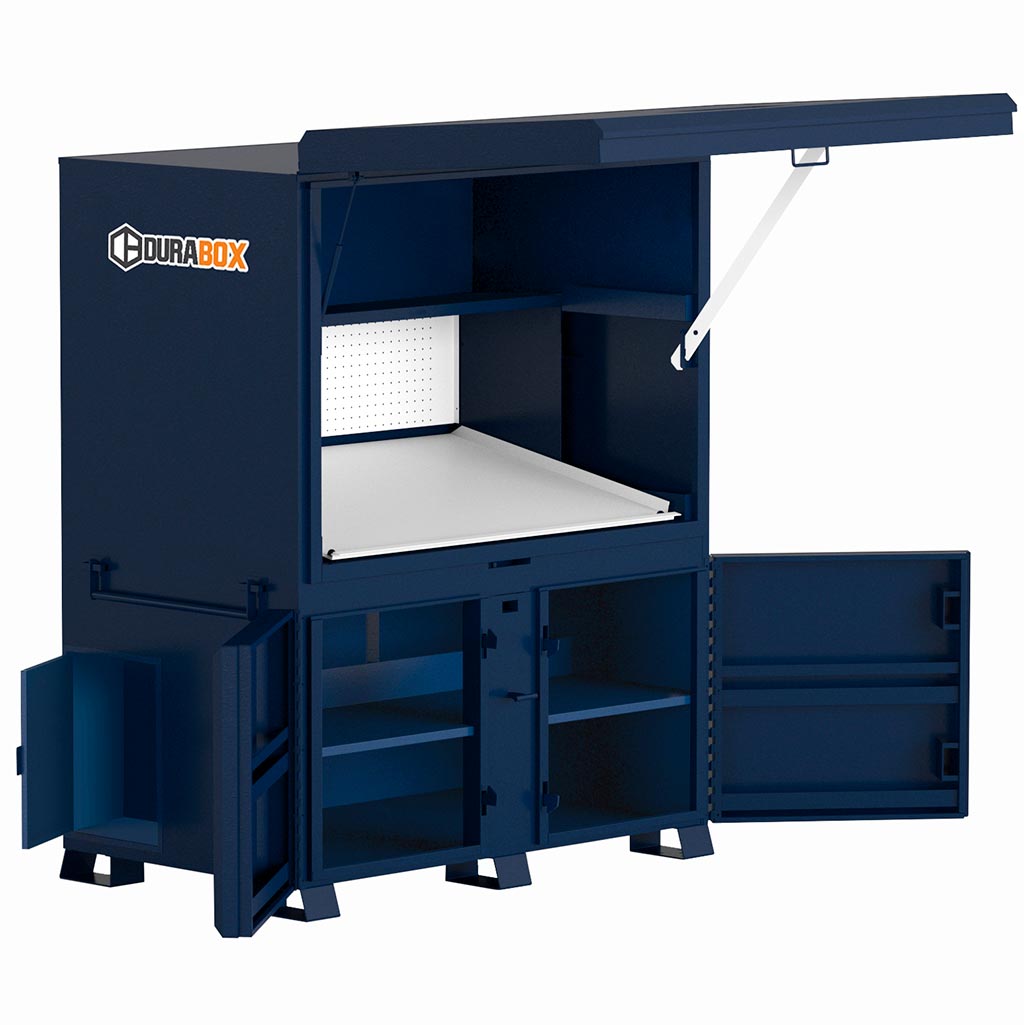 DURABOX JOBSITE FIELD OFFICEoffers massive storage capacity, security and organization. DURABOX provides protection from theft and weather for your valuable tools and equipment at the jobsite. DURABOX's innovative design and versatility offer strength and durability for top security and ideal storage solutions.
FIELD OFFICE DIMENSIONS: 63.5" x 42.5" x 80"
FIELD OFFICE WEIGHT: 772 lbs.
DURABOX FIELD OFFICE FEATURES: Front open into Canopy and Lid Lock Bar with locking pin; Adjustable Blueprint Table with Storage, Shelf and Pegboard; Heavy-duty Door Shelves with anti-tip bars; Twist-to-Open Latch between doors; 16-Gauge Steel Construction; Arc-Welded Seams; Baked-On Powder Coating; and Full-Length, Stacked and Welded Piano Hinges with Secure Pins.
FIELD OFFICE DIMENSIONS: 63.5" x 42.5" x 80"
FIELD OFFICE WEIGHT: 772 lbs.
16-GAUGE STEEL CONSTRUCTION: Arc-welded seams ground to a smooth, perfect finish.
POWDER COATING: Baked-on powder coating for increased resistance to corrosion and weather damage.
LID LATCHES: 3- and 2-point lid latches reinforced with steel plates to prevent pry-in access.
PIANO HINGES: Full-length, stacked and welded piano hinges with secure pins.
RIGID SECURITY: Formed sidewall design allows door or lid to overlap when closed, offering added security, along with protection from weather damage.
RECESSED HANDLES: Out of the way for easy storage.
BOLSTERS: Pre-drilled with 4 ovals for mounting optional 4" or 6" casters and 1 oval for caster lubrication, 3/16" bolsters offer 4-way skid access.
Durabox
$3,491.00
3491.00
Item#: 92510