DURABOX Jobsite Welder Box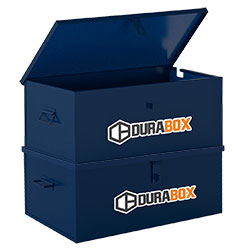 DURABOX JOBSITE WELDER BOX provides the best options for dynamic work environments: storage customization, mobility and security. DURABOX provides protection from theft and weather for your valuable tools and equipment at the jobsite. DURABOX's innovative design and versatility offer strength and durability for top security and ideal storage solutions.
DURABOX WELDER BOX FEATURES: Supply hose cutout, latching hasp, handles, 16-Gauge Steel Construction, Arc-Welded Seams ground to a smooth, perfect finish and Baked-On Powder Coating for increased resistance to corrosion and weather damage.