65550 Pelican 0550 Case 47x24x17 - Foam Filled
Foam Filled
Lifetime Guarantee!
Watertight, crushproof, and dustproof
Inside Dimensions: 47.57 x 24.07 x 17.68
Outside Dimensions: 51.05 x 27.54 x 22.79
Case Weight: 95 lbs.
With over 11 cubic feet of space, you can store, protect, and move large loads in seconds. The reinforced honeycomb deck and lid construction provide support for heavy equipment, or multiple stacking on a 463L pallet. With an IP55 certification, the 0550 Transport Case will protect your gear against rain and dirt. The 0550 Transport Case: Built to move-by forklift, by wheel, by hand.
Watertight, crushproof and dust proof construction
Double Throw latch system
O-ring seal
Dual Automatic Pressure Equalization Valves
Stainless Steel hardware and padlock protectors
Four extra-deep base-to-lid locking cleats ensure maximum stacking stability
Unconditional Lifetime Guarantee
Optional 4pc Caster/Wheel Kit available, see below.
Pelican
$1,170.00
1170.00
Item#: 65550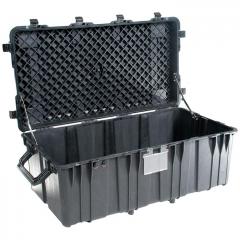 Same as above Pelican 0550 Case, but comes without foam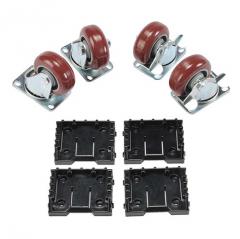 Set of 4 Heavy-Duty Casters/Wheels which attach easily to the Pelican 0500 or Pelican 0550 Case.