65145 Pelican 1450 Case 15x10.5x6 - Foam Filled
Pelican 1450 Case
Pick-n-Pluck Foam Filled
Lifetime Guarantee!
Watertight, crushproof, and dustproof
Comfortable rubber over-molded handle
Easy open Double Throw latches
Inside Dimensions: 15 x 10.5" x 6"
Outside Dimensions: 16.4" x 13" x 6.8"
Case Weight: 6.39 lbs.
The 1450 is the smallest of Pelican's extremely popular "briefcase" type cases. Used for thousands of different purposes like cameras and electronics equipment, or any valuable item. Waterproof, dustproof,indestructible, lockable (padlocks optional). Comfortable "overmolded" handle. Options include padded dividers.
Pelican
$145.00
145.00
Item#: 65145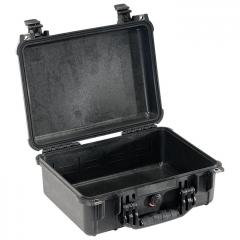 Pelican 1450 Case Empty - NO FOAM
Lifetime Guarantee!
Watertight, crushproof, and dustproof
Comfortable rubber over-molded handle
Easy open Double Throw latches
Inside Dimensions: 15 x 10.5" x 6"
Outside Dimensions: 16.4" x 13" x 6.8"
Case Weight: 5.51 lbs