SKB iSeries Case 15x10x6 - Foam Filled
SKB's 3I series injected molded waterproof cases are constructed of ultra high-strength polypropylene copolymer resin. Case is water-proof, dust tight with a submersible design that is resistant to corrosion and impact damage.
Lifetime Warranty
Inside Dimensions: 15" x 10" x 6"
Foam Filled, Cubed Foam
Injected molded, 2.8 x stronger than our competition
Waterproof, crushproof, dustproof
Best latches in the industry, patented "Trigger Release"
Field replaceable hardware
Designed for the military and now available to everyone. These cases are extremely strong, water and dust tight, resistant to corrosion, and offer outstanding impact protection.
SKB
$127.00
127.00
Item#: 75639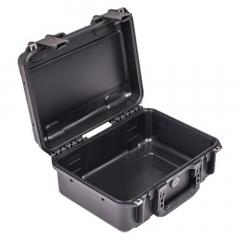 SKB iSeries Case 15x10x6
NO FOAM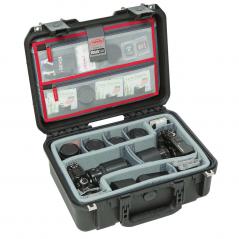 SKB has teamed up with Think Tank Photo -- the premier photo/video bag and backpack company -- to design quality interiors that provide the best of both worlds: soft case adaptability with the unparalleled strength and durability people expect from SKB's versatile watertight, airline-tough cases.

The 3i-1510-6DL is watertight and dustproof, and features a deluxe Nylex-wrapped closed cell fitted foam liner and (9) nylon dividers with heavy duty hook-and-loop tabs to create the perfect fit. Also included in this case is an adhesive-backed hook-and-loop attached lid organizer with laminated clear mesh pockets and a polyester-lined iPad/laptop top-load pocket.
Inside Dimensions: 15" x 10" x 6"
Exterior Dimensions: 16.25" x 13" x 7"
Product Weight: 6.40 lbs
Shipping Weight: 7.2 lbs
All SKB iSeries cases come standard with an Unconditional Lifetime Warranty.