Durabox DB490 6-Drawer Workbench 49x26x40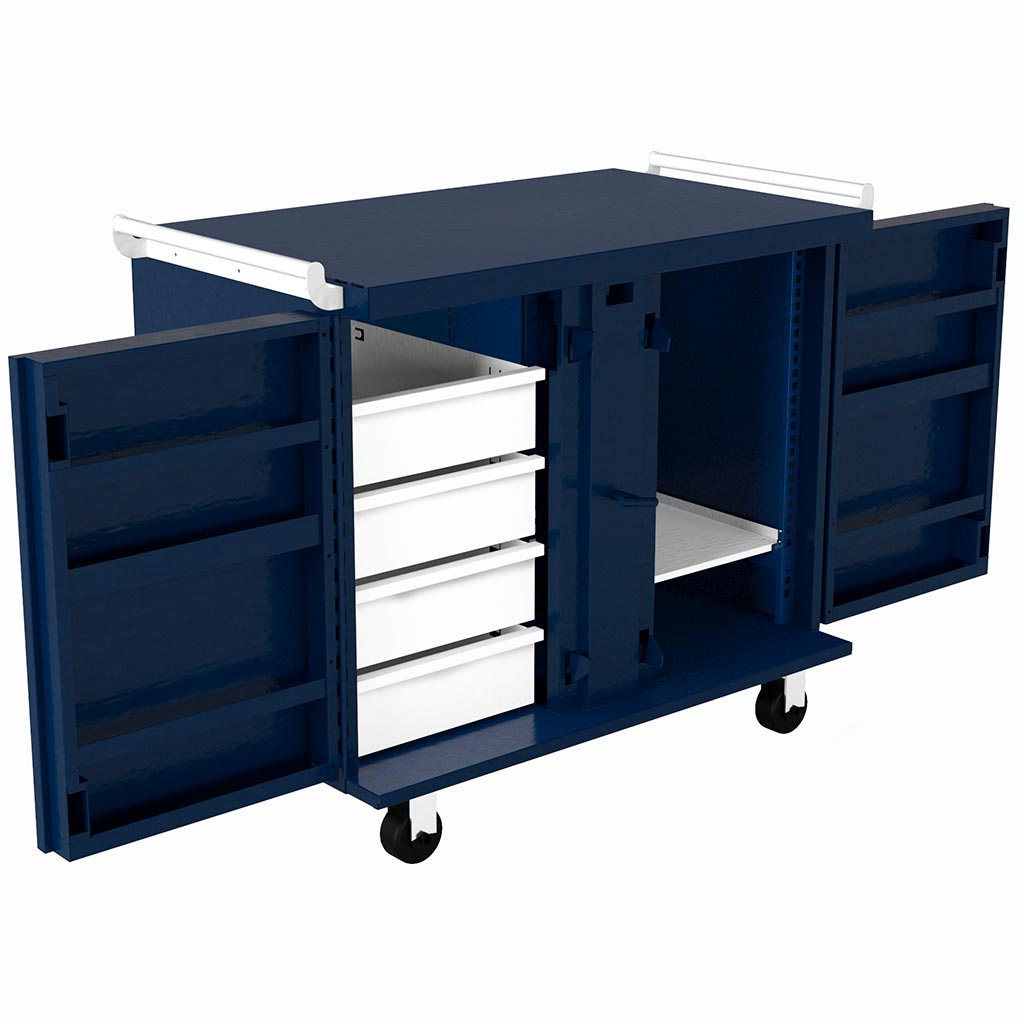 DURABOX JOBSITE WORKBENCHES provide the best options for dynamic work environments: storage customization, mobility and security. DURABOX provides protection from theft and weather for your valuable tools and equipment at the jobsite. DURABOX's innovative design and versatility offer strength and durability for top security and ideal storage solutions.

WORKBENCH DIMENSIONS: 49.75" x 26.75" x 40.5"
WORKBENCH WEIGHT: 461 lbs.

DURABOX DB480 WORKBENCH FEATURES:
4 Built-In Drawers; Adjustable Shelf; 2 Fixed and 2 Swivel 4" Casters; Built-In, Heavy-Duty Doors with anti-tip bars; Twist-to-Open Latch between doors; 2-point Security System with Secure Padlock Enclosure, 16-Gauge Steel Construction; Arc-Welded Seams; Baked-On Powder Coating; and Full-Length, Stacked and Welded Piano Hinges with Secure Pins.
DIMENSIONS: 49.75" x 26.75" x 40.5"
CABINET WEIGHT: 461 lbs.
CASTERS: Two fixed and two swivel 4" casters.
DRAWERS: Six built-in drawers and one shelf
SINGLE PADLOCK: Single padlock security system with recessed housing to prevent opening with bolt cutters.
16-GAUGE STEEL CONSTRUCTION: Arc-welded seams ground to a smooth, perfect finish.
POWDER COATING: Baked-on powder coating for increased resistance to corrosion and weather damage.
LID LATCHES: 3- and 2-point lid latches reinforced with steel plates to prevent pry-in access.
PIANO HINGES: Full-length, stacked and welded piano hinges with secure pins.
RIGID SECURITY: Formed sidewall design allows door or lid to overlap when closed, offering added security, along with protection from weather damage.
RECESSED HANDLES: Out of the way for easy storage.
CASTERS: Two fixed and two swivel 6" casters.
Durabox
$2,623.00
2623.00
Item#: 92490