75625DL SKB iSeries 22x17x12 Wheeled Case with Dividers & Lid Organizer
SKB has teamed up with Think Tank Photo -- the premier photo/video bag and backpack company -- to design quality interiors that provide photographers and videographers with the best of both worlds: soft case adaptability with the unparalleled strength and durability people expect from SKB's versatile, airline-tough cases.

The 3i-2217-12DL is watertight and dustproof, and features a deluxe deep closed cell fitted foam liner, (4) heavy duty hinged dividers, (6) closed cell foam pads, and (1) heavy duty divider, all of which are Nylex-wrapped and designed with heavy duty hook-and-loop tabs to create the perfect fit. This case also features an adhesive-backed hook-and-loop attached lid organizer with laminated clear mesh pockets and a polyester-lined iPad/laptop top-load pocket, built-in wheels, and a convenient pull handle for easy transport.
Inside Dimensions: 22" x 17" x 12"
Exterior Dimensions: 24" x 19" x 14"
Product Weight: 18.75 lbs
Shipping Weight: 22 lbs
All SKB iSeries cases come standard with an Unconditional Lifetime Warranty.
CASE FEATURES
Watertight/dustproof injection molded outer shell
Pull handle & wheels
Automatic ambient pressure equalization valve
(4) Patented trigger latches
(4) Metal reinforced locking loops
DIVIDER FEATURES
Deluxe deep Nylex-wrapped closed cell form fitted foam liner
(4) Nylex-wrapped heavy duty hinged dividers
Heavy duty hook-and-loop tabs
(6) Nylex-wrapped closed cell foam pads
(1) Nylex-wrapped heavy duty divider
High contrast grey interior
LID ORGANIZER FEATURES
Laminated clear mesh pockets
Large zippered clear side pocket
Polyester-lined iPad/laptop top-load pocket
Adhesive backed to attach securely to lid with hook-and-loop
SKB
$472.00
472.00
Item#: 75625DL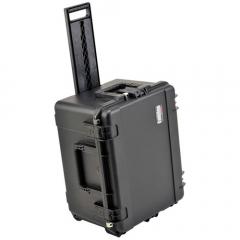 SKB's 3I series injected molded waterproof cases are constructed of ultra high-strength polypropylene copolymer resin. Case is water-proof, dust tight with a submersible design that is resistant to corrosion and impact damage.
Lifetime Warranty
Inside Dimensions: 22" x 17" x 12"
Foam Filled, Cubed Foam
Wheels and Pull Out Handle
Injected molded, 2.8 x stronger than our competition
Waterproof, crushproof, dustproof
Best latches in the industry, patented "Trigger Release"
Field replaceable hardware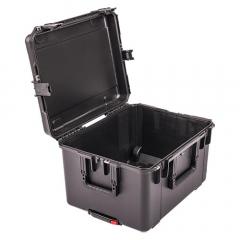 SKB iSeries Wheeled Case 22x17x12
NO FOAM