Pelican 1510 Wheeled Case 20x11x7 - Foam Filled
1510 Case
Pick-n-Pluck Foam Filled
Sized For Carry-On!
Wheels and Telescoping Handle
Exact Inside Dimensions: 20.2" x 11.4" x 7.5"
Case Weight: 13.6 lbs.
Sized specifically to meet carry on luggage requirements, this is the perfect case for items that need protection and need to travel with you. No more crushed cases with this one: it's indestructible! Available foam filled or empty, for ultimate flexibility.
Pull out handle is rugged: no flimsiness here. Wheels are standard.
Pelican
$237.00
237.00
Item#: 65151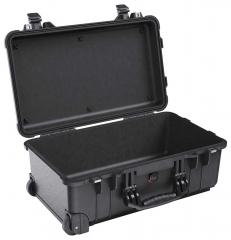 Same as above, but does not come with foam.
Case weighs 12 lbs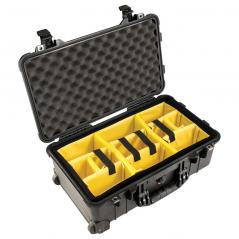 Pelican 1510 case, with photographic style dividers instead of foam.